Small Flashlight Retractor
Description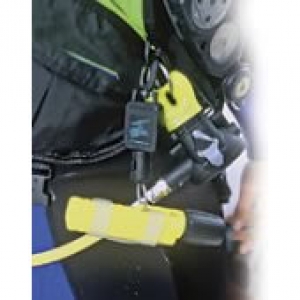 SCUBA Small Flashlight Retractors
First engineered for SCUBA diving, the Gear Keeper is a rugged, retractable gear attachment system, designed to utilize and protect gear in severe environments with maximum break strength and durability.
The Gear Keeper is at the core of an extensive product line that boasts an impressive array of benefits and features: a patented flushing system that clears sand and debris from the unit, is salt-water proof, and will withstand high-temperature environments; a patented Q/C Connector System that provides quick and easy connection/disconnection of gear.
All SCUBA retractors feature the exclusive (Quick Connect) System that allows gear to be easily disconnected from the Gear Keeper® while keeping gear close at hand and reducing the overall length of the tethering system.
Choosing the right Gear Keeper is easy because they're packaged by ap-plication (console, flashlight, etc.): the right force, mounting option, and accessories needed.