Key Retractors - General Purpose
Description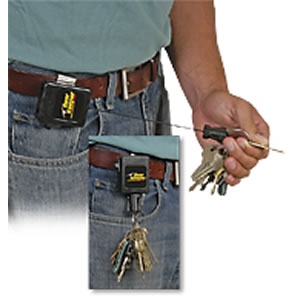 Industrial Strength Key Retractors
Finally, Key Retractors That Are Built to Last for the Job at Hand!
Finally, a Key Retractor That's Built to Last!
Top-notch construction: special high flex line, rotating mounting system for minimal line wear and interlocking belt clip for secure mounting. Available in five forces for the perfect fit, whether you carry 1 key or 30.
Stainless steel components survive in salt water environments
Disconnect-able end allows keys to be quickly and easily removed
RT4 Low Force
Retracts 1-7 Keys, Security Badges
Key Retractor - Rotating Belt Clip Hi-Tensile Spectra/Nylon RT4-5850
Industrial Strength Key Retractors
Key Retractor - Rotating Belt Clip Stainless Steel Cable RT4-5855
Industrial Strength Key Retractors
Key Retractor - Rotating Belt Clip Hi-Tensile Spectra/Nylon - Extended RT4-5850-E
Industrial Strength Key Retractors
Fits 2 1/4" Law Enforcement Duty Belts
RT4 Medium Force
Retracts 8-14 Keys
Key Retractor - Rotating Belt Clip Hi-Tensile Spectra/Nylon RT4-5851
Industrial Strength Key Retractors
Key Retractor - Rotating Belt Clip Stainless Steel Cable RT4-5856
Industrial Strength Key Retractors
Key Retractor - Rotating Belt Clip Hi-Tensile Spectra/Nylon - Extended RT4-5851-E
Industrial Strength Key Retractors
Fits 2 1/4" Law Enforcement Duty Belts
RT3 High Force Locking
Retracts 15-28 Keys
Key Retractor - Stainless Steel Rotating Belt Clip Hi-Tensile Spectra/Nylon RT3-5852
Industrial Strength Key Retractors
Key Retractor - Rotating Belt Clip Hi-Tensile Spectra/Nylon - Extended RT3-5852-E
Industrial Strength Key Retractors
Fits 2 1/4" Law Enforcement Duty Belts
1
to
7
of total of:
7
(

processing time:

10.58 ms)
)