Hard Hat Lanyard
Model: Velcro Strap Mount
Hard Hat Lanyard
Combo Mount
18 oz hard hat limit
Hang onto your hat!
Tethers hard hat to fall-protection harness--prevents dropping
Retractor keeps lanyard close to your body, minimizing entanglement
Retractor provides capability to remove hard hat and drape over shoulder
Hard Hat Lanyard
Specifications
Spectra/Nylon Line
Stainless Steel Spring & Hardware
14" Extension
2.5 oz. Retraction Force
18 oz. Weight Limit (hard hat)
Mounting System
Velcro Strap
Attaches to harness tri-ring or strap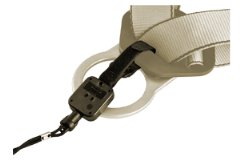 Hard Hat Attachment
Loop and cinch lanyard around hard hat head band or adjustment knob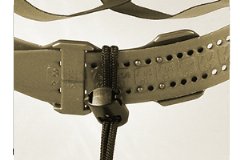 Retracting End Type
Quick Connect (Q/C)
Quickly and easily disconnect phone from Gear Keeper retractor
Included Accessory: Q/C Lanyard with 3/8" Split Rin
Nokia®-style adapter
Adhesive Pad Attachment
See Other Available Accessories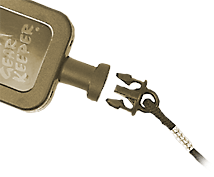 Usage Notes
WARNING
Modification of lanyard or components will void tool rating limits
Inspect lanyard before each use for wear
Inspect lanyard after dropped tool for damage
Replace lanyard if subjected to heavy tool drop or if lanyard exhibits wear or strain
Do not exceed tool weight limits
Not for personal fall protection
Do not use around machinery
Model: Velcro Strap Mount
Hard Hat Lanyard
Combo Mount
18 oz hard hat limit
Hang onto your hat!
Tethers hard hat to fall-protection harness--prevents dropping
Retractor keeps lanyard close to your body, minimizing entanglement
Retractor provides capability to remove hard hat and drape over shoulder
Specifications
Hard Hat Lanyard
Specifications
Spectra/Nylon Line
Stainless Steel Spring & Hardware
14" Extension
2.5 oz. Retraction Force
18 oz. Weight Limit (hard hat)
Mounting System
Velcro Strap
Attaches to harness tri-ring or strap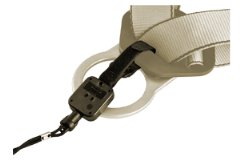 Hard Hat Attachment
Loop and cinch lanyard around hard hat head band or adjustment knob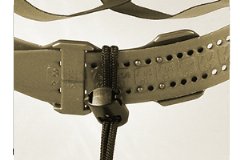 Retracting End Type
Quick Connect (Q/C)
Quickly and easily disconnect phone from Gear Keeper retractor
Included Accessory: Q/C Lanyard with 3/8" Split Rin
Nokia®-style adapter
Adhesive Pad Attachment
See Other Available Accessories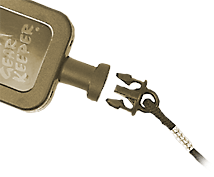 Usage Notes
WARNING
Modification of lanyard or components will void tool rating limits
Inspect lanyard before each use for wear
Inspect lanyard after dropped tool for damage
Replace lanyard if subjected to heavy tool drop or if lanyard exhibits wear or strain
Do not exceed tool weight limits
Not for personal fall protection
Do not use around machinery
Resources